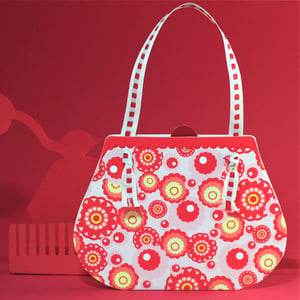 $

6.00
Printable pdf's......do-it-yourself....simply print, cut, fold and glue....too easy!
Every girl needs some Sassiness in her life. Add glamour to any event with this ever-so-girlie handbag (or is it a clutch?)
As a Greeting Card or an Invitation for a Birthday, Kitchen Tea or any occasion when the girls get together, this unique 3D handbag card will always look chic. And what purse is not complete without mandatory lipstick, nail polish, compact and sunglasses?
To make life easier (and we all like that!) it's editable so you can type your own details on the bag insert. You can make all your cards and accessories for a fraction of the price of store-bought cards. Ready to print time and again
W H A T ' S • I N C L U D E D ?
Instructions
3D Bag template (to fit standard A2 envelope)
Editable insert to customize your details
Notepaper (not pictured)
Party Favour with handle template
Envelope template (not pictured)
Gift Tags template (not pictured)
S P E C I F I C A T I O N S •
3D card • 4" x 5.5" (100mm x 140mm)
Party Favour • 4" x 5" (90mm x 120mm)
Envelope • A2 size. This size is readily available at most stationery retailers
Tags • 2.25 x 1.5" (60mm x 42mm)
PDF suits Letter and A4 formats. When purchased, I'll send the pdf file within 24 hours and you're ready to go